Networking Products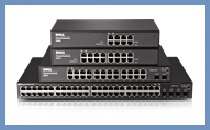 Networking Products
Rack Mount Switches & Routers
Rack mount network switches and routers for your small, medium, and large business infrastructure:
* Multiple vendors: Cisco, Adtran, Dell, IBM and more.
* 1U to 4U sizes (1U = 1.75").
* L1/L2/L3
* Managed / Unmanaged.
Firewalls
Rack mount firewalls to protect your business:
* Multiple vendor options.
Wireless Networking
Full range of wireless networking options from b/g/n wireless access points to top class products from Ruckes Networks
* Multiple vendor options
* Wireless repeaters & access points
* Robust, secure, scalable and reliable centrally- managed WLANs that fit within any existing network architecture
With installation and support services to custom branding services, we have all the services you need under one roof!